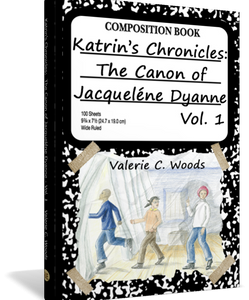 Katrin's Chronicles is a young adult mystery novel whose narrator, thirteen-year-old Katrin DuBois, recounts the unusual adventures that began when she was a middle school kid of eleven and her elder sister, Jacqueléne Dyanne began to exhibit extra-ordinary powers of deduction; enhanced, some say, with psychic abilities. Taking place on the south side of Chicago in 1968, Katrin and J. Dyanne become the Dr. Watson and Sherlock Holmes of their neighborhood. This is book one of a trilogy.

Excerpt at: www.jdyanne.com
Available at: www.amazon.com
Reviews
From time to time, I break with my tradition of only reviewing books for younger people, in order to include a teen-appropriate children's book. This is one of those exceptions, as this very unusual children's book came my way fortuitously. At first, I didn't know what to make of it. Was it a disguised personal biography? Was it a journey into the recent past of the 1960′s, focused on current events? In fact it's none of these. Somewhere in the first thirty pages, I found I was totally hooked on the adventure and growth of two young girls in Chicago who are intuitive detectives.This book, much like the girls at the heart of the book, is not what it seems. It could be considered a contemporary Nancy Drew, given the number of mysteries the girls solve. However, it is also a wonderful look at the possibility of learning to tap into one's own inner power, and live a teenage life from that place. Each time the mystery is solved through intuition, we also see the confluence of common sense, deep observation, and the ability to open oneself to what's happening in the world. A lovely way to solve mysteries.
The heroines of the book are African-Americans tweens, and their heritage and culture are shared in a very inclusive way, making this children's book accessible to everyone. It's a good read, and…hallelujah…no violence, sex, drugs, etc. I'm on a quest to find quality uplifting books for children, and this one definitely fits the bill! Currently only found at on-line booksellers, but will eventually make it to bookstores. Keep your eyes out for volume 2!
Laura Duggan http://litkidz.com/katrins-chronicles_childrens_book
Certain content that appears on this site comes from AMAZON SERVICES LLC. This content is provided 'As Is' and is subject to change or removal at anytime.