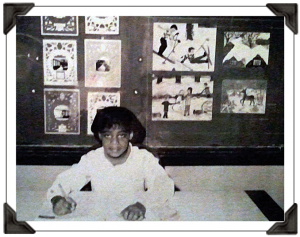 Valerie on being an Author:
Growing up on Chicago's South Side, reading was one of my favorite pastimes. It began with my Mom, who read to my siblings and me each night before bed. My elder sister was signed up to a children's book club. With sibling rivalry being what it was, I had to sneak my sister's books from their hiding place when she wasn't looking! This may have had something to do with why I've become a storyteller.
My writing career began when, as a struggling actress in New York, I couldn't find suitable audition material. This led me to writing a book of audition monologues, Something for Everyone (50 Original Monologues). The book was initially self-published and is now published by renowned theatrical play publisher, Samuel French, Inc.
After adapting an average play into a better screenplay, I was awarded a Walt Disney Screenwriting Fellowship and followed that up with writing and producing for television dramas and film. (Read more …)
But fiction, my first love, kept whispering in my ear. I had always written bits of fiction, short stories and a little poetry here and there.
In November 2012, I founded a micro-press: BooksEndependent, LLC (www.BooksEndependent.com) to support my work and the work of other new, independent authors of fiction and non-fiction.
The first title was my novella, I Believe… A Ghost Story for the Holidays. Then, what began as a gift became my second publication.
Several years ago, I needed a birthday present for my sister – yes, the one who used to hide her books from me. I wrote a short story about a girl detective named Jacqueléne Dyanne — a highly fictionalized autobiography of our adventures in childhood. I wrote another story for Christmas, then one for Mother's Day and realized I was writing the kind of novel we would have loved to read as children, but which didn't exist – the adventures of African-American Girl Detectives!
In August 2013, Katrin's Chronicles: The Canon of Jacqueléne Dyanne, Vol. 1 was finally released on Amazon.com. (Click to purchase the books from my Amazon author page).